Today, I'll show you two more tutorials. They are simple, so don't hesitate to try them out. These are the final previews:
The first one is called "
Design a Vibrant Blackberry Inspired Ad in Photoshop" by Chris Spooner.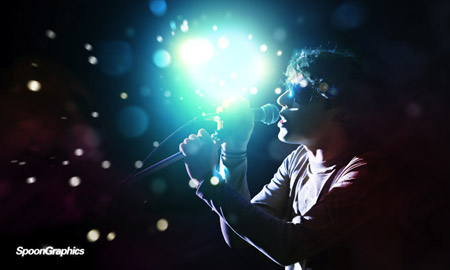 This tutorial will show you how to make the effect they used in the Blackberry Loves U2 ad. However, you can use to enhance your ordinary photo with a cool effect. Even though there isn't much to do, you get a sick outcome. You will add some colored layers to get the blueish effect, some lens flares and brushes for the dots clusters. The tutorial has quite a few steps, but they are easy to follow so you shouldn't have a problem with that.
The second tutorial is called "
Making of the Imaginary Paint Dancers" by
Johnson Koh.
Looks epic, right?
Anyway, in this tutorial you will learn how to control the elements! After you download the stocks, you can go on with the tutorial. After a few adjustments on the colors and the stocks and you're done! Quite simple and easily done. So, if you're already bored, try this tutorial out and post the outcome in the comments!
If you have any questions, post them in the comments, as well. Thanks